SSS Main Branch Guide - Office Address Map, Opening and Closing Hours with Hotline Numbers
One of the most visited, SSS main branch located in East Avenue, Quezon City is perhaps the easiest to find among all branches. Their office had the biggest signage you can think of along the highway and beside some of the most distinguished buildings for government services like LTO, BIR, Heart Center, Kidney Center, Lung Center (other prominent government hospitals) and more. They are all clustered like fruits from a tree for easy access and finding by Pinoys who are looking all sorts of government services related buildings. You can find other branches in National Capital Region as well as for those who are working, living or have migrated abroad in our list of overseas offices.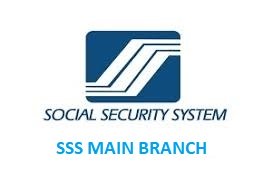 SSS Main Branch in East Avenue Quezon City
While Diliman is what it is known for the official SSS main branch in East Avenue, Quezon City, it is actually the biggest office in the Philippines. This is where you can get a hold of a complete services for all concerns regarding Social Security System member account. Although this office is know to have one of the fastest service for those trying to apply for SSS ID, the line is absolutely very long.
If you are to ask me, it would be best to get your application done in some small not really know branches in malls like the Northmall in Caloocan. This branch is so accessible and easy to find because the landmark itself is the LRT 1 station in Monumento where you embark on stairs that is connected to Northmall itself. Just ask the guards and you'll absolutely get to the small branch yet very few applicants and inquiring members can be found. If you come here during weekends on Saturday, it is more advisable. Otherwise, you can see our complete listing here.
Location Address: SSS Bldg. East Avenue, Diliman, Quezon City 1100 NCR
Contact Numbers: Tel No: 63 (02) 921-0550; Fax No: 921-0350
Branch Head: EVELYN L. DUPLON
Email Address: 

DUPLONEL@sss.gov.ph
sss main branch map in east avenue, diliman, quezon city
Trying to find a nearby parking area for your car in making an offline inquiry? Having problems with down website of the SSS and visiting the main office for a personal inquiry of different membership services related information? No problem! The main branch definitely had one of the biggest parking space for your can so you can come by and bring any vehicle to avoid commuting inconvenience.
Below is our official Google Maps guide so you know how to get there. Use the satellite option to view the actual building and parking spaces available as well as to see live traffic and avoid getting stuck along the way. According to Google Maps, opening time for the main branch starts as early as 7:00 AM which is good for those who want to make a personal visit and inquire before coming to their office, especially if you live nearby or work near the building in Quezon City.