SSS Branches Abroad - Complete Latest List of Overseas Office Contact Details
We have arranged this complete list of SSS branches abroad in alphabetical order so you will have easy time finding a nearby office. In time, some changes might have occurred with the address or contact numbers. In this case, please bear with us as information on this website is subject to change without prior notice. On the other hand, if you know any latest details and changes, please don't hesitate to let us know by sending us a note using our comment section below. This way, we might be able to help the Social Security System to provide viable information to all Filipinos overseas and from within the Philippines domestic locations.
Thank you for bearing with us as we move forward to serve your needs in all forms and medium we have available. Please note that we are not the official website of the SSS but we are here to serve the Pinoy interest by providing as much accurate and latest information we can based from our online research and through your help.

Alphabetical ORder of the SSS branches abroad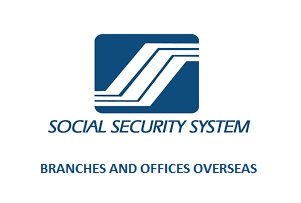 SSS Online Inquiry website aims to provide Filipinos with free information regarding all sorts of matters on social security account. Just please be reminded as we always say that you should not provide or disclose any personal details anywhere for security purposes. We never collect any of your personal details. We believe in protecting your personal identity which is of great importance and value as we value ours. Any changes to information listed on this website is subject to time constraints. Therefore, all or any inaccuracies may be concluded by visiting the official SSS website found at https:www.sss.gov.ph.
To visit any branch, please click on the links provided below. Did you find this page useful? Please don't forget to like us or share our page to your fellow OFWs and other Pinoys abroad who might need information on where to find any of the SSS branches abroad. Thank you. :)

abu dhabi uae




al khobar ksa




brunei darussalam




doha qatar

dubai uae


hong kong




jeddah ksa




kuwait




london uk




milan italy




riyadh ksa




rome italy




singapore




taipei taiwan