SSS Makati Guadalupe - Directory Address Hotline Numbers and Map Guide
Makati is such a very big city in NCR Metro Manila. So we are bringing you a step closer to your personal inquiry with Social Security membership account details by providing all members with relevant information about this particular branch office of the SSS.
If you need information with other offices in Makati area. please visit our post on Ayala and Gil Puyat hotlines and contact details. We also have articles on the different branches overseas where you can avail or inquire for membership services at the consulate offices of the Philippines.
nearby government offices - ECC gil puyat, pag-ibig makati, nbi u.n. avenue and Dfa aseana
Although some of the other government agencies offering public service a bit far to Guadalupe area, we are proud to announce here in our post today other nearby adjacent services office. From your needs to passport application to NBI to Employees Compensation Commission and Pag-Ibig. Please be guided accordingly as the details below are subject to change without prior notice.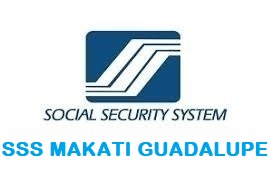 Makati Guadalupe Branch Office Contact Details
Location Address: 3/F Guadalupe Commercial Complex, No. 9 EDSA-GUADALUPE, Makati City 1000 NCR
Hotline Tel No: 63 (02) 556-1848; Fax No: 556-1864
Branch Head: HOECHST R. POTATO
Email Address: 

potatohr@sss.gov.ph
SSS MAKATI Gudalupe MAP GUIDE
Just like any other branches of the Social Security System, SSS Makati Guadalupe branch is also very easy to reach. Let us remind you though that parking is an issue with the area as you know that congestion is always present elsewhere.
It is strongly advised not to bring in any vehicle if you want to transact in this branch of the Social Security System. Anyway, the public transportation availability is just on sight. But if needed be, there are a few adjacent parking slots. You just have to find your way through narrow streets.