SSS Makati Gil Puyat - Directory Address Hotline Numbers and Map Guide
Just to tip off members, below is our complete guide in finding SSS Makati Gil Puyat branch. The purpose of this guide is for both online and offline inquiry by SS members. Here with SSS Online Inquiry, we make your inquiry easy as 123. We provide the most complete details of the different branches of the SSS. Proof to this, is because we also have offices overseas and if your inquiry is for branches abroad, we have it here.
Although there is an adjacent branch which you can find along Ayala and Herrera streets, if you are anywhere nearby for other government transactions, this branch is an additional option. With this tip, you can avoid the long line in other branches.
Note that we have posted a guide map where you can also find nearby establishments like a parking area and malls or restaurants where you can find refuge if you go hungry.
nearby offices - pag-ibig makati, dfa aseana main branch and NBI in taft avenue in manila and ECC in gil Puyat Avenue
If your purpose of getting SSS details or for making inquiry is to go abroad, here are a few other offices nearby. One of them is Pag-Ibig branch in Makati Malugay area. The other is DFA in Aseana or the main branch.
With this guide, you can actually hit 3 birds in 1 stone. You can also possibly do 4 government transactions as NBI office is also nearby along Taft Avenue. Also ECC or Employees Compensation Commission is alongside Gil Puyat Avenue. You can make a segway to get your NBI clearance in U.N. Avenue main branch. If you are to claim for ECC benefit either for disability or sickness (hospitalization), this is a good place to make all of those transactions.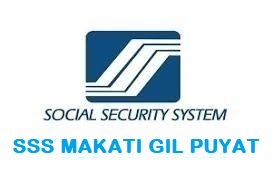 Makati Gil Puyat Branch Office Contact Details
Location Address: 355 ECC Building, Sen. Gil J. Puyat Avenue, Bel-Air, Makati City 1200 NCR
Hotline Contact Numbers: Tel No: 63 (02) 896-7134; Fax No: 890-4776
Branch Head: MA. RITA S. AGUJA
Email Address: 

agujars@sss.gov.ph
SSS MAKATI GIL PUYAT MAP GUIDE
There are literally so many ways you can reach the SSS Makati Gil Puyat branch. If you are living near, you can make an inquiry with different government agencies too. Some of these are mentioned above in our nearby offices list. 
But just to give you a clear view of how strategic this location of Social Security System branch see other government offices as listed below:
NBI Taft Avenue Main
DFA Aseana
Pag-Ibig Makati
ECC or Employees Compensation Commission Gil Puyat